Family Fun & Baseball

This summer has been jam-packed, and we are only half way through it! Even with all the busyness, I feel extremely blessed. This week Dawn, Hannah and I have been able to take a break from some of our normal activities as both David and Jon came to visit us! Woo-hoo!!
We've just had a wonderful time enjoying our family being together, which is a special treat. To top it off this year the Baseball All-Star game was played in San Diego. There's been all kinds of fun activities from last Saturday till this Tuesday.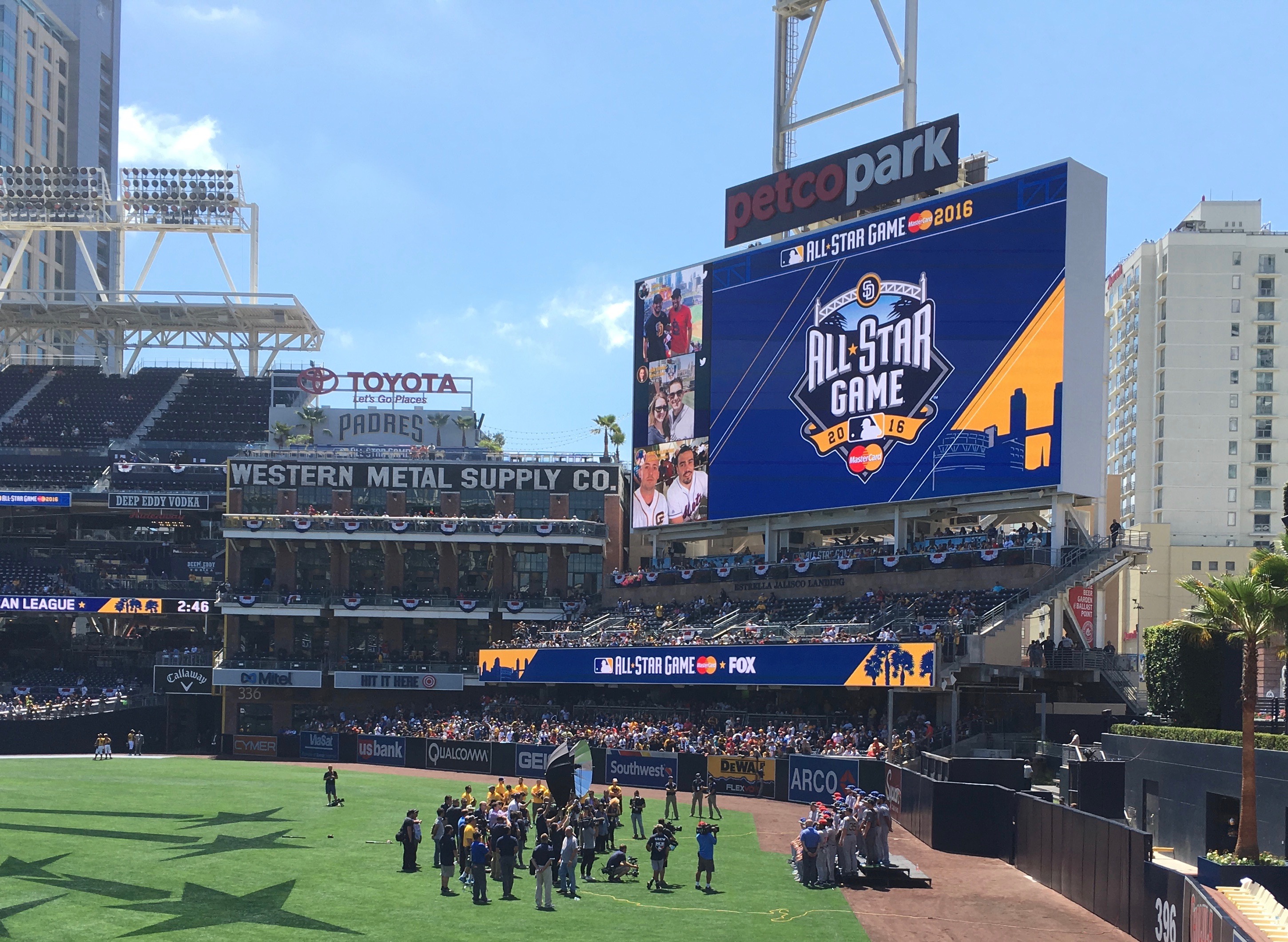 I grew up a big baseball fan. I played baseball as a young boy, and then I coached my two boys when they played. If you spend time around our family you know that we like to talk about baseball. I suppose to some we talk about it too much. I'm sure Dawn and Hannah feel like we get carried away at times.
On the positive side, even though Dawn isn't a baseball fan, she let's me indulge. Hannah doesn't follow baseball, but she enjoys going to the games with me. I need a baseball buddy, since the boys no longer live here.
Fulfilling a Dream

The Lord blessed us with an opportunity that I didn't think I would every have. David Jr. and Jonathan were able to go to the Home run derby on Monday. Then on Tuesday David and I were able to go to the All-Star game. What a wonderful memory with my boys! I'm so glad that now that they are adults there is something that we connect around.
Our faith and walk with Christ are always central and I believe they serve to unify us, and help us get through the rough patches. It's a gift from the Lord that we can also enjoy baseball together!
David Jr. said that it was a childhood dream of his to be able to go to the Home run derby and the All-Star game. All three of us, David, Jonathan and I enjoyed the festivities that went along with the games.


I thank the Lord for the gift that this was for our family, especially the men in the family. Even though Dawn and Hannah didn't go to any of the All-Star activities they loved having David and Jonathan here for a visit. In between the All-Star weekend festivities we found some time to spend together as family. We learn to cherish these moments more and more as our children are now grown, and David & Jonathan live in other cities.
Thank you Lord for allowing us to enjoy family and sports activities together! I've found that sporting events are a good way to connect with other church planters as well. The Lord has connected me to some wonderful people who are laboring in the extension of the kingdom on the earth at sporting events! Thank you Jesus for the many good gifts that you give us.
In His Grip, Dave
DiasoLifeOnTheBorder.org