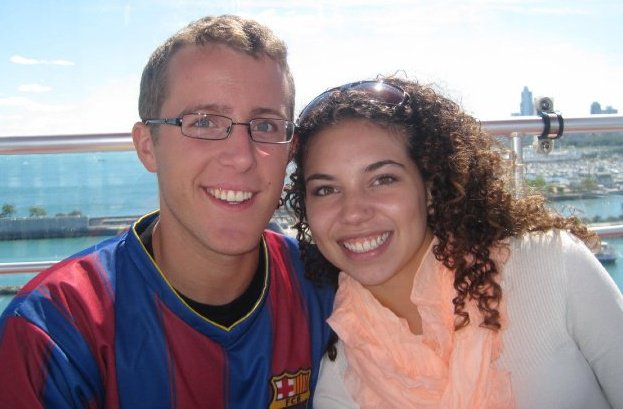 This summer we will have at least two interns and probably three. It thrills us that young people who love the Lord, and desire to grow are coming to minister with us. Our three interns are Zach Lutz, Emily Gryder and our son, David Diaso Jr.
Today I'd like to highlight Zach. He grew up in Spring Hill, Kansas near Kansas City. I guess that means he'll be rooting for Kansas in the NCAA championship game tonight. He is the oldest of three brothers and one sister.
Zach is a student at Moody Bible Institute in Chicago. He is majoring in Historical Theology/Biblical Theology. God has given Zach a love for Spanish and the Hispanic culture. Further proof of that is that he's in love with Margarita, a Puerto Rican young lady who is studying at Wheaton College which is near Moody. Actually, I had a hard time finding any pictures of Zach without Margarita on his Facebook page.
Zach hopes to minister through training and educating pastors when he graduates. By the way Zach, we have needs for someone to work with us to train and educate church leaders in San Diego – Tijuana!
He has gone on short-term missions projects before. He loves to help wherever he can. This includes construction, soccer and sports outreach, interacting with families and sharing his faith.


Our vision and prayer for our internship program is that we can build into the life of young people, who are preparing themselves to serve the Lord. We would like to see them grow in their ministry skills, but also in their spiritual maturity through their time with us. Our hope is that the Lord would use their experience with us to infect them forever with a love for missions and serving people. They will bring energy to our ministry on the border, which God can use to open up new doors. In God's rich grace we pray that some of them will return to serve with us, or decide to serve in other mission fields.
We appreciate your prayers for our interns. Zach will be with us from May 23rd through August 18th. I will highlight Emily Gryder in my next post. Please pray that they will be able to raise all their funds as they prepare for the internship.
If you or someone you know is interested in a missions internship with BEAMM San Diego – Tijuana sent me a note. We'd love to see our internship program grow. God can use it to move  our work forward on the border, as well as to build into the lives of young people.
In His Grip, Dave
DiasoLifeontheBorder.org