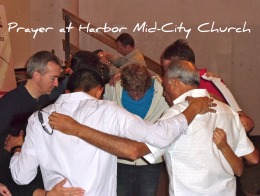 I believe it's important to start the year off well. Prayer is one of most productive initiatives we can engage in. Yet it's also one of the hardest.
This year has started a little slow, since I've been a little under the weather. Last night things began to turn around as I went on a prayer walk with some friends in west Chula Vista. As we  walked and prayed it struck me how when we pray it can seem insignificant. It even might feel like a waste of time, and yet it's one of the most important things we do.
One constant I've seen is that God works through prayer. Prayer is somewhat of a mystery, but the Lord hears the cries of his people. Jesus modeled a life of prayer. Paul continually prayed for the churches he started. James encourages us in prayer with a great promise.
"The prayer of a righteous person has great power as it is working. Elijah was a man with a nature like ours, and he prayed fervently that it might not rain, and for three years and six months it did not rain on the earth. Then he prayed again, and heaven gave rain, and the earth bore its fruit."
–James 5 16b-18 (ESV)

I confess that I have a long ways to go in prayer. I look to the Lord to lead and guide this year. I pray that my wife and I will grow together in prayer, and that our relationship with our Lord will deepen. Bring others along that we can encourage, and that we will spur them on as we inspire each other to pray. To keep doing the right things.
Do not grow weary in doing good. "And let us not grow weary of doing good, for in due season we will reap, if we do not give up." (Gal. 6:9) I cling to this exhortation and promise as we begin 2013!
If I can inspire you this year in any way – grow in prayer. Grow in your love and knowledge of our Lord. Pray for and with us, that we will grow in the same way!
In His Grip, Dave
DiasoLifeOnTheBorder.org