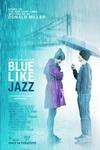 My wife and I just went and saw the movie, Blue Like Jazz. It peaked our interest, since we both read the book.
I agree with some of the other reviews that I've read. It's hard to capture Don Miller's stream of consciousness that he uses in the book, and then translate that into a movie. I liked the movie, although I would warn that this isn't an overtly "Christian" movie.
It does tell the story of Miller's life. It focuses on some of the dysfunction in his family, and some of the elements that are unhealthy in the church. This possibly leads to some stereotyping of Christians, but it is Don's story. I felt like that was key for me to keep in mind when I was reading the book, and watching the movie.
Kathryn Frazier shares a helpful summary,
Steve Taylor's trademark satirical humor shined in his screenplay through snappy dialogue and clever imagery, with an over-arching feel that –as the character Penny put it–"We all have our crap." We sure do.
I loved the resolution. I suppose in part, because there was a positive ending. There was transformation in Miller's life. After being very bitter, and frustrated with the church and God, he repented. He might not describe it that way, but he recognized his own shortcomings. He realized and confessed that he was ashamed of Jesus, and of being associated with him. He recognized that there are unhealthy elements in churches, and that he was part of the problem. Then he began to confess his sins, his shortcomings to the other students. In doing so he was professing the gospel.
I liked the way he confessed to being afraid to admit that he loved Jesus. He thought of Jesus as the nerd that you know, but don't want to associate with, because it makes you look bad. I think this is something many Christians struggle with. We are ashamed of Jesus, because we live in a culture that is increasingly hostile towards Christ and Christianity.
Obviously, this is my take, and I'm in no way a professional movie critic. I do like the message of recognizing our sins, even the sins of the church and then asking forgiveness. This is a better option than getting defensive. The world needs to see the difference that the gospel and grace makes in our lives. A good place to begin is with repentance. As Luther states, "all of life is repentance."
Here are some other reviews that you might want to check out:
Blue Like Jazz the Movie FTW
Blue Like Jazz: A Movie Review
Blue Like Jazz: Thoughts of a Christian Viewer
I'm curious to hear other's views. If you've read the book or saw the movie, what do you think? Did you like it? Did you have concerns about the way they portrayed Christianity and the church?
In His Grip, Dave
DiasoLifeontheBorder.org